Have you ever taken a moment to look at products on store shelves or websites?

You will likely be bombarded with 10 to 20 advertisements on your way to work, but how many of them do you actually remember?
It's not hard to notice that many of them look remarkably similar if not exactly the same. We can confidently say that only one, or perhaps none, has left a lasting impression. This situation highlights the struggle faced by companies that offer a wide range of products – they find it challenging to capture the attention of their potential customers.
In a market with many similar products, it becomes incredibly challenging for businesses to differentiate themselves and stand out. And just in these challenging conditions, successful differentiation lies in maximizing customer satisfaction through exceptional service offerings surrounding the product.
Table Of Contents
What does it mean to Outsource Customer Services Center for your Business?
Customer Service Outsourcing is a business model in which the external side manages its customer service on behalf of one company. The external side fully communicates with customers through phone calls, e-mails, live chats, tech support, staffing, etc.
Why is it important for one business to have excellent and up-to-date Customer Service?
Let's try to explain the importance through one example. Imagine you have a technical problem with a product or service you paid for. You tried several times to call their customer service but unsuccessfully. And in those moments, the benefits and importance of this sector come out. Being available and up-to-date is the key to creating successful and long-term relations with customers who will become loyal to you over time.

The following results show how important it is for one business to have good customer support:
Companies with a customer service mindset boost revenue 4-8% higher in relation to others. Bain&Company, 2019
Brands with superior customer experience bring in 5.7 times more revenue than competitors that lag in customer experience. Forbes Magazine, 2019.

68% of customers say a customer service representative is vital to a positive service experience. Forbes Magazine, 2019.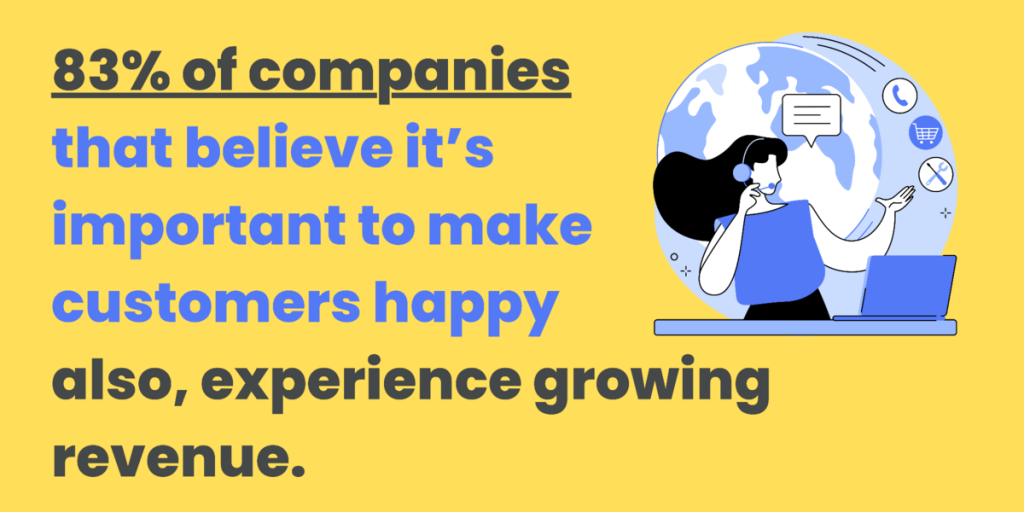 Why should you outsource Customer Services Center?
The first sign of business growth is moving away from performing the essential work and focusing on developing ideas to improve the business. potential. Outsourcing customer service, you will have the opportunity to work with a team of experienced experts with highly developed communication and sales skills.
Remember – customer service is an integral part of the sales funnel.

By outsourcing customer service, you will ensure that your customers always have available customer support, ready to help with accurate and up-to-date information.
Benefits of outsourcing Customer Services Management Center?
Outsourcing customer service offers a wide array of benefits, with a significant emphasis on elevating the quality of your services while also optimizing financial efficiency. Let's explore some of these advantageous aspects:
1. Cost-saving:
Outsourcing a customer service center offers a remarkable opportunity to enhance the quality of your services while concurrently optimizing costs. Unlike in-house operations that demand with time-intensive training periods, there is for new employees, which can extend up to 2-3 weeks or even longer, outsourcing mitigates these costs and time investments. By entrusting a team of adept professionals who specialize in recruitment processes, your business benefits from a streamlined approach that efficiently identifies the best solutions without prolonging execution timelines or missing critical deadlines.
2. Improved efficiency:
Outsourced teams inherently possess extensive industry experience, resulting in swift and seamless task execution. Bolstered by their honed communication and sales skills, these teams adeptly handle tasks, from lead conversion to finalizing sales funnels, rapidly and proficiently. Their familiarity with efficient practices ensures holistic solutions, enhancing operational efficiency and minimizing unnecessary costs associated with prolonged processes.
3. Scalability & Flexibility:
Working with an experienced outsourcing team, you will save resources, time, and energy on right choices. You will focus on developing your business while someone will work for you and boost it. On the other hand, outsourcing teams are more flexible than in-house teams. They are trained to adapt more quickly to the nature of your business, for example, different shifts and working hours. This adaptability is instrumental in providing tailor-made solutions, which, in turn, mitigates the potential operational costs of rigid in-house staffing structures.

4. Proactive problem solving:
You will have more knowledge and skills when specializing in one brunch than others. It's the same thing with outsourcing. Thanks to long work experience, outsourcing teams can predict new trends or problems in the market, and following them can proactively (in advance)  react and prevent adverse effects or be ahead of the competition. This proactive approach ensures a forward-looking solution.

5. Language & Cultural Expertise:
External customer service management providers have an advantage over other in-house teams. If you want to step out on the global market, you should adapt your product offer to the requirements of the given market. One of them is language. Besides English, members of the outsourcing teams know other languages. Working with them, you will have the opportunity to have a full-service package in many countries. Working with them, you will have the opportunity to have a full-service package in many countries, providing a comprehensive language solutions.
6. 24/7 Availability:
If you want to have an up-to-date customer service center, this sector should be available and ready to help customers all the time, whenever and wherever. And this kind of service customers will appreciate and will not easily replace you with other competing products or services. All this above will contribute to the creation of loyal customers through a reliable availability solutions.
7. Satisfied Customers:
Quick-solving problems and round-the-clock support contribute to highly satisfied customers, which is an important advantage of external customer service management providers. They will feel free to recommend your product or service to others which will be reflected in the increase in your sales and profit. These customer satisfaction solutions are pivotal for long-term success.
8. Access to Expertise:
In-house teams are specialized in one branch of business, mostly. On the other hand, working with many clients from different industries, outsourcing teams have experience in various brunches. They have the tools and knowledge that apply regardless of your business's nature, ensuring well-rounded expertise solutions.

9. Reduced Staffing Challenges:
The recruitment process of the in-house team demands a lot of bureaucracy, thinking about the new candidate's psychology and whether they are suitable for this position. All of the above can distract you and take your focus away from doing other things, which outsourcing can alleviate as a staffing solutions.

10. Reduce the risk:
"RISK" includes financial, operational, technological, compliance and regulatory, training and knowledge risk, and others. Highly qualified outsourcing teams reduce the probability of the occurrence of the mentioned risks and take responsibility for compliance, training, and regulatory requirements, reducing potential risks for the business.

11. Competitive edge:
Outsourcing customer service management helps businesses differentiate themselves from competitors and take a better position in the market and in the minds of consumers. Outsourcing customer service management, providing access to multilingual support and cultural expertise, serves as competitive edge solutions.
We suggest you read our blog, "Outsourcing Customer Service – Pros and Cons List", where we delve deeply into this transformative topic.
In-house vs. outsourcing?
The answer depends on the nature of your business. For some small a family businesses which does retail in-house it is a better decision, definitely. But, If you have a company that has a huge target group, outsourcing is key to success. 

When it comes to handling customer data and ensuring data security, external partners are often equipped with robust data protection measures, relieving you of the responsibilities and potential risks associated with data management.
In general, the outsourcing customer service center is a good option for the following types of business:
1. Technology industry 
2. Gaming & Gambling industry
3. Retail industry
4. E-commerce 
5. Online education or other services6. Finance & Insurance
6. Finance & Insurance
If you are interested in this topic more deeply. In that case, we suggest you read our blog "How Much Does it Cost to Outsource Customer Service?".
Conclusion
As mentioned before, in today's competitive business conditions, customer service plays a leading role in creating a better consumer experience.
If you want to achieve a stable and long-term position in the market, you should be innovative, flexible, and always one step ahead of the competition.
The first step in achieving the above is developing good relations with customers, which is crucial to position yourself as a brand. Branding your service or product is crucial for long-term success.
Just as social connections are vital in our personal lives, maintaining good customer service within a product or service is crucial for a thriving business. Building and nurturing strong relationships with customers can make a significant difference in the success and reputation of a company.
How to outsource Customer Services Center in 2023?
Everything begins with the client's idea. Our partnership will start by scheduling a call with you to understand your business requirements and goals.
Frequently Asked Questions (FAQ)