Discover the Perfect Match for Your Business!
"Outsourcing isn't just a matter of convenience; it's a strategic tool to control costs, manage risks, and spur innovation." – Thomas H. Davenport.
Finding the right workforce solution can make all the difference in the dynamic business world. When it comes to delegating tasks beyond your core team, two popular options emerge Staff Augmentation and Managed Services. Both methodologies have merits, but understanding their nuances is a crucial process that can help in making an informed decision that aligns with your company's goals and objectives.
Table Of Contents
What is Staff Augmentation?
Staff Augmentation is a strategic business approach where companies hire external professionals or specialists to complement their existing workforce. It allows organizations to access a wide range of software skills and expertise without the commitment of permanent employment. This flexible staffing model ensures that specific project requirements are met effectively.
Companies often turn to Staff Augmentation for projects that demand specialized software expertise, short-term commitments, or situations where hiring full-time employees might not be feasible.
This approach allows you to leverage external software talent without the complexities of onboarding permanent personnel when you need software development and other specialized skills.
Advantages of Staff Augmentation?
Flexibility and Scalability: This model offers an unparalleled solution for adapting to changing project requirements and scaling your team as needed. This agility enables you to respond to market demands swiftly when you need to.
Cost-Efficiency: Hiring and training full-time employees for software development and other projects can be costly, especially for short-term projects. This model allows you to access specialized skills without incurring the expenses associated with long-term employment when you need software expertise.
Expertise on Demand: You gain access to a diverse pool of highly skilled software personnel who can hit the ground running, bringing their software expertise and knowledge to boost your project's success when you need it.
Control and Ownership: With Staff Augmentation, you retain full control over your software project, maintaining your vision and direction while integrating external software personnel to complement your team when you need specialized software skills.
Reduced Hiring Burden: Searching for the right candidates can be time-consuming. Staff Augmentation streamlines the process, as the staffing agency takes care of candidate screening and selection.
To understand the importance of this business model, we suggest reading our blog "Staff Augmentation vs Consulting".
Disadvantages of Staff Augmentation?
While increasing staffing provides valuable flexibility and other benefits, it can present some challenges.
Integration Challenges: Integrating external talent seamlessly with your existing team might pose some challenges, especially regarding communication and team dynamics.
Limited Project Commitment: External staff might have a different level of commitment to your project than your full-time employees. This lack of attachment could impact the project's outcome.
Dependency on Third-Party: Relying on an external staffing agency means trusting their judgment in selecting suitable candidates. An unsuitable fit could result in inefficiencies.
Knowledge Transfer Difficulty: Temporary staff might need more in-depth knowledge about your company's internal processes, which could slow down certain aspects of the project.
To address these challenges, companies can implement comprehensive onboarding and orientation programs, emphasize better communication with the external team, and ensure that the external talent fully embraces the company's culture.
What is Managed Services?
Managed Services is a comprehensive outsourcing model where you entrust an external service provider, known as a Managed Service Provider (MSP), responsible for managing and executing specific business functions or entire software projects. These MSPs assume responsibility for efficiently operating and maintaining the outsourced software functions.

This approach is suitable for long-term partnerships, as the service provider becomes an extension of your team, taking on tasks you need.
Advantages of Managed Services?
Focus on Core Competencies: Outsourcing certain tasks frees up your in-house team to concentrate on your core business functions and strategic initiatives.
Access to Specialized Skills: Managed Services providers (MSPs) are experts in their field, providing access to a broader range of specialized software skills you might not have in-house when you need it for software development.
Cost Predictability: With this outsourcing model, you typically agree on a fixed price for software services provided externally, allowing for more accurate budgeting and cost predictability when you need software expertise.
Continuous Support: The service provider is responsible for completing tasks efficiently and meeting the agreed-upon service level agreements (SLAs).
Scalability and Resource Management: External providers can adapt to your changing software needs, offering scalability and resource management as your software projects grow when you need it.
Disadvantages of Managed Services?
Dependency on External Entity: Entrusting key tasks to an external provider means relying on them for timely and accurate deliverables. A lack of performance could impact your business.
Less Control: Handing over certain aspects of your business means relinquishing some control over how those tasks are executed.
Integration Challenges: Integrating the service provider's workflow and processes with your existing ones can be complex and time-consuming.
Confidentiality Concerns: Involving an external entity may raise concerns about data security and confidentiality, especially if sensitive information is involved.
The collaborative nature of Managed Services can be particularly helpful for companies seeking a holistic solution for ongoing support and project execution.
Similarities between Staff Augmentation and Managed Services?
Both Staff Augmentation and Managed Services involve outsourcing, offering businesses access to external expertise and resources through a comprehensive process. In this process, they aim to help businesses become more agile and competitive by leveraging external talent. However, the key distinction lies in the level of control and ownership that someone maintains over the outsourced tasks.
Differences between Staff Augmentation and Managed Services?
The primary difference between those outsourcing models is the degree of involvement and ownership. In the Staff Augmentation process, you maintain control over the project, with the external talent acting as an extension of your team for software development. On the other hand, Managed Services providers take on more significant responsibility, managing and executing tasks on your behalf, often with less direct control from your end.
Which one is better?
As an entrepreneur or CEO, the decision-making process between Staff Augmentation and Managed Services requires a thorough understanding of your business stage, needs, and resources. There is no one-size-fits-all answer, as the best choice depends on your project's specific requirements and goals.
Staff Augmentation can be a prudent choice for startups or small businesses with short-term projects and limited budgets. It provides access to specialized skills without long-term commitment, allowing you to complete projects efficiently and stay competitive.
Managed Services might be the way to go for larger enterprises or projects that demand ongoing support and extensive expertise. By partnering with a dedicated service provider, you can focus on core competencies while ensuring specialized tasks are managed effectively.
Let's take a real-world example to illustrate this point.
Imagine a tech startup with a groundbreaking app idea. They have a small core team but lack the necessary skills to build the app's backend infrastructure. In this scenario, Staff Augmentation would be ideal. They can quickly hire a team of experienced backend developers to work on the project for a defined period. Once the app is up and running, they can scale down the team and focus on marketing and user acquisition.
Now consider a well-established e-commerce company experiencing rapid growth. They face challenges in handling customer support inquiries and maintaining their website's backend infrastructure.
Managed Services would suit them better. They can partner with a provider to handle customer support and manage their website's technical aspects, ensuring seamless operations and improved customer satisfaction.
Can staff Augmentation and Managed Services work together?
Absolutely! In fact, a strategic combination of Staff Augmentation and Managed Services can yield remarkable results for your software development and business growth when you need it. They complement each other's strengths and weaknesses, offering a holistic approach to software workforce management.
Consider the following scenario:
An IT company undergoing a major digital transformation project uses Managed Services to handle its infrastructure maintenance and software network security. At the same time, they opt for Staff Augmentation to bring in niche software expertise for certain development stages when you need specialized software personnel.
This approach allows them to optimize their software resources, ensure the project's success, and efficiently achieve their digital transformation goals.
Conclusion
In conclusion, choosing between Staff Augmentation and Managed Services is a critical decision that shapes your business's trajectory. Both models provide valuable solutions to address specific needs, and their effectiveness depends on your project's scope, duration, and resource requirements.
Remember, Staff Augmentation excels in short-term projects, granting you the flexibility to scale your team with specialized skills. On the other hand, Managed Services shines in long-term partnerships, freeing up your team to focus on core competencies while benefiting from external expertise.
Ultimately, your business's best choice is subjective and depends on your unique circumstances. Whether you embrace Staff Augmentation, Managed Services, or a combination of both, outsourcing strategically can empower your business to thrive in an ever-evolving marketplace.
Table: Staff Augmentation Vs. Managed Services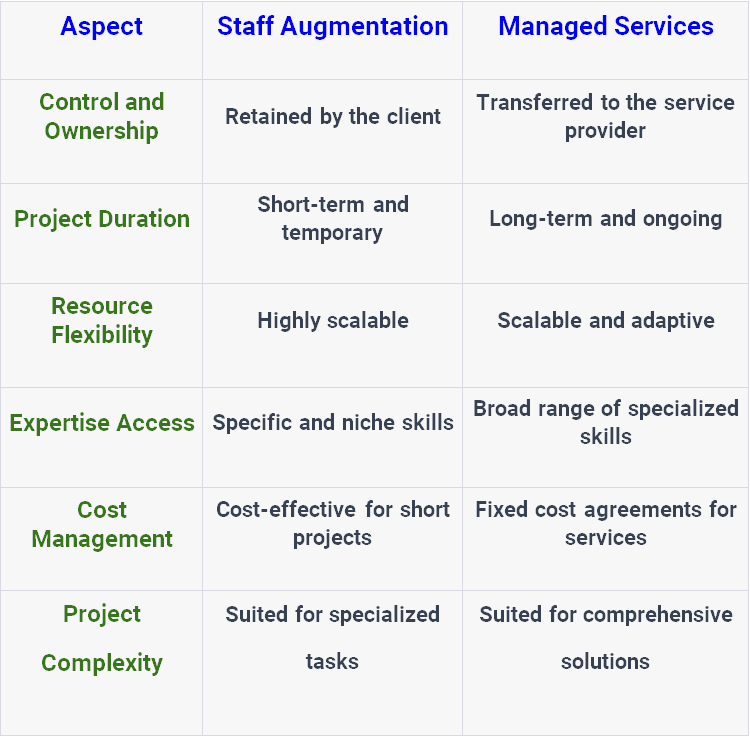 How to Augment your staff in 2023?
Frequently Asked Questions (FAQ)