"If people like you, they'll listen to you, but if they trust you, they'll do business with you." – Zig Ziglar.
The company's main goal for many years was to sell the product in ever larger quantities. How this goal will be achieved was not chosen, starting from the mass production of identical products and aggressive digital marketing campaigns to lobbying the most influential layers of society.

During that time, no attention was paid to the efficient use of resources and cost optimization. The goal was to produce as many products as possible.
But today, due to the increase in competition and the expansion of the market to global levels, the goal of companies is not to "convince" the customer to buy their product but to repeat the purchase. Building a foundation of loyalty and trust between your brand and the target audience becomes paramount.
The challenges in 2023. year lies in identifying the right ones with quality and long-term potential, and the importance of leading generations at this moment truly shines. The following text will explain the importance of lead generation and its methods to identify a quality customer.
Table Of Contents
What is Lead Generation?
Lead Generation is a process of identifying and attracting potential consumers or leads for a company's product or service It includes various techniques and strategies for deepening the pool of potential customers and attracting them for your company.
Lead Generation is the extended arm and cruel part of sales, and the primary goal of this function is to build a strong group of qualified leads that can be converted into paying customers for your company.
Who is the lead? Lead can be a person or organization interested in your product or service. The lead conversion process involves various stages, from the observers gathering information to the customer phase.

One of the main challenges in 2023. is attracting consumers'
attention and "convincing" them to buy one product/service in a pool of ​​similar products. In today's challenging business conditions, the final step of attracting new leads isn't converting them into customers who would buy the product for your company.

For more about the benefits of this model, we suggest you read our blog "How Outsourcing Lead Generation can be beneficial for your business?" where we dive into this topic deeper.
The main goal is to create a loyal customer who repeatedly buys your product and recommends you to other customers. A loyal customer is the best promoter of the quality of your products and services, and his influence on others is the strongest.

As competition intensifies and markets expand globally, Lead Generation is getting more and more attention. Lead Generation, as one in a series of positions, has always existed and only changed a name throughout history. Previously, sales and marketing professional teams did this job, but following new technologies and trends, it has now evolved into a specialized position within the sales department
Today, you can find functions such as Lead Generation Specialist, Lead Generation Manager, or Sales representative in corporations. Each has a different level of responsibility and tasks, but the endpoint is to FIND THE RIGHT AUDIENCE for your company.
Does getting a Lead also mean getting a Client?
You have positioned yourself on the market as a brand and defined your target group within which you are beginning to differentiate yourself from others. Will all group members be converted into customers? The answer is no.

Not all potential clients are ranked equally. There are differences between them, depending on the stage of their life cycle. We will try to explain their differences and analyze their importance in the sales funnel. The main division is LEADS, PROSPECTS, and CUSTOMERS.
1. The Lead: Representing a potential opportunity.
Introduce a prospect with an initial interest in your products or services. The level of desire to buy your product is at a minimum. They are collected through digital marketing channels and activities like the website, social networks, and other advertising channels. They are at the beginning of the sales funnel, and further engagement is necessary to convert them into customers.
There are three types of lids:
COLD leads

people who still haven't shown interest in buying your products but match the profile of your target group.

WARM leads

are familiar with your product and show interest but have yet to purchase the product.

HOT leads

expressed a strong interest in your product by requesting more information or scheduling a meeting with you to be better informed.

2. The Prospect: Moving closer to conversion.
They show greater new interest in buying your products, consider alternatives and collect information on the differences between several products from the same category. To convert them into customers, it is necessary to maintain contact with them to remind them of the offer and advantages of your product compared to others.
3. The Customer:The ultimate goal.
Conversion completed successfully! Finally, the customer decided on your product and bought it. This phase does not end with the purchase of the product. After the purchase, it is essential to follow the customer's satisfaction during and after consuming the product, to develop closer relationships with him, which will lead to the creation of loyalty and, with it, repeated purchases.

If you are still on this topic, we suggest read our blog "Lead Generation vs Brand Awareness" and learn more about their correlation.
What types of lead generation methods exist?
Companies can use various methods and strategies to attract potential customers and generate interest in their products or services. Here are some of the most effective Lead Generation methods worth considering for your business: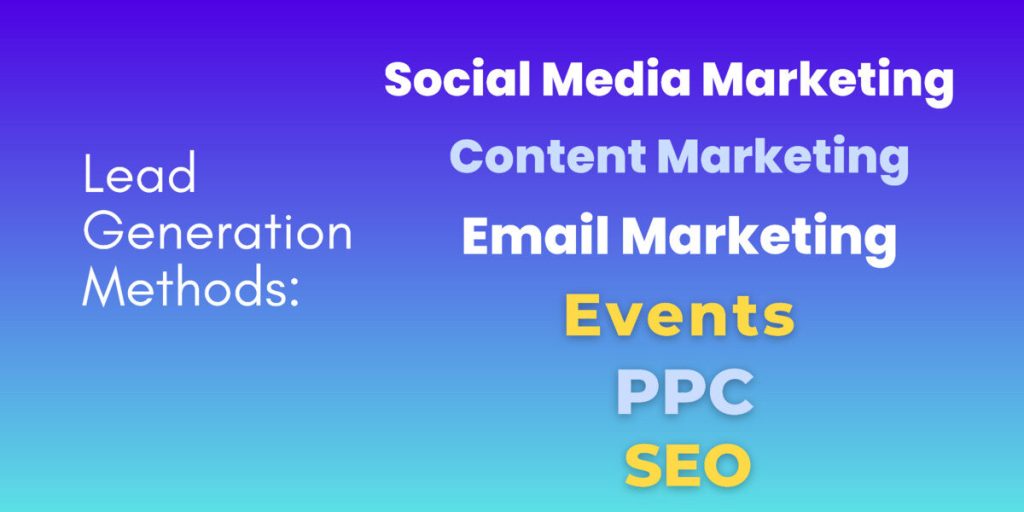 Content Marketing: Creating engaging content is an essential in attracting new leads for your marketing business. This strategy includes writing blogs and articles, recording videos, and updating all social network profiles daily. The content should be attractive, more catchy, and appropriate to the age and preferences of your target group.

Social Media Marketing: Social media platforms have become powerful tools for lead generation for your marketing business. Unfortunately, if you do not have a profile on any social media, it's like your company doesn't exist. Companies can use platforms like Facebook, Instagram, Twitter, and LinkedIn to reach huge audiences and engage with potential leads.

Email Marketing: If you have a customer email address, you've won this race! Building an email list allows companies to directly reach potential customers, nurture relationships, and deliver personalized product and service content. This type of communication directly leads to the creation of loyalty and repeat purchases for your marketing business.

Search Engine Optimization (SEO): Implementing this strategy will ensure that your content is among the first on the search engine for certain keywords and attract organic traffic to your website. A strong online presence plays a crucial role in lead generation, and optimizing your website will help you achieve this goal for your company.
Paid Advertising: Pay-per-click (PPC) advertising through platforms such as Google Ads and social media platforms allows companies to reach hundreds of thousands of target audiences by targeting specific demographics, keywords, and target audience interests.

Webinars and Events: These activities will help you achieve a stronger connection with the target group, establish a community where customers will share experiences about your marketing business.
If you are still on the subject, we suggest you read our blog "Lead Generation vs Demand Generation"  and learn more about their correlation.
And now, is lead generation worth it?
Finding the right target audience in the B2C world and the right leads in ti B2B world is the most crucial step in your company development. Without them won't be able to unlock the potential for scalability and growth.
Investment in lead generation is worth it if you want to succeed in today's competitive market. Businesses can unlock many long-term benefits by implementing effective strategies to generate leads. Generating leads not only enables you to expand your influence but also helps you reach a targeted audience, amplifying your overall impact.

Generating quality leads saves resources, uses time efficiently, and optimizes costs. In the end, do not forget- no matter how good your products or service are, you won't be able to do business without quality leads.
If you are still on this topic, we suggest you read our blog "How to Outsource Lead Generation?".
How to Outsource Your Lead Generation?
Outsourcing sales to clients requires a strategic approach to ensure success. By following these best practices, you can effectively outsource sales to clients in 2023 and optimize your efforts:
Frequently Asked Questions (FAQ)